LAYALI MIAMI
Lebanese Restaurant & Hookah Lounge
Where the east meets the west
Check out our promo codes online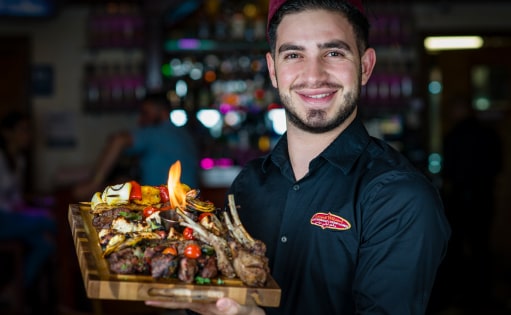 In our journey of finding the best cuisine, we came across Lebanon's exotic and outstanding culture. Layali Miami was created after nights of food and drink tastings from across the Middle East. Lebanon had the most profound and richest textures in its popular dishes. What impressed us the most is where Lebanon's restaurants were located. They were surrounded by beautiful sceneries and each restaurant provided their customers with a phenomenal nightlife entertainment. All their best and exclusive entertainments were fulfilled at night and our explorations and fun activities were completed at night.
This gave us the final decision on landing the name "Layali" for our restaurant. It was the perfect name since it occurred during Lebanon's nightlife of fun and excitement. We are willing to promote the same experience as we endured within a short period of time. The nights we spent in Lebanon turned into a lifelong memory. Come visit us for a night that you will never forget, but forever remember.
"Layali Miami" is defined as "Miami Nights"
"Layali" means "Night" in Arabic.
We will make sure to leave you with an
everlasting & satisfying taste
The Lebanese spices of Zaatar, Sumac, Allspice, and so on are used to intensify the flavors of each oriental dish. Our dishes are formed by our most ultimate and talented chef creating an elegant decorated plate of food to your table.
Getting your favorite Lebanese dishes delivered to doorsteps has never been so easy. Now you can order delivery or pickup online and avoid waiting on hold or repeating your credit card number over the phone.
Here at Layali Miami, we want to make things as convenient as possible for you.
Order directly from our Website and enjoy ordering our delicious food today. We pledge that your order will be right and right on time.